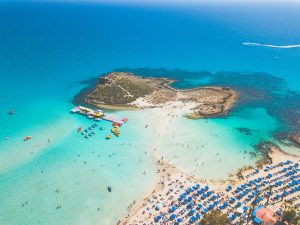 The COVID-19 pandemic has tested the promptness and efficiency of governments, healthcare systems and communities worldwide. Cyprus was one of the few countries that have responded remarkably well to the pandemic. With as few as 108 coronavirus cases, this Mediterranean island remains to be the safest country to travel in the post-Covid period for medical tourism.
The gigantic success of North Cyprus in dealing with the pandemic
When the coronavirus broke out, North Cyprus showed an ability to make and implement competent, fact-based decisions in a timely manner, which proved crucial for both the short- and long-term health and economic prosperity of this small country.
The Mediterranean island has completely freed itself of COVID-19, with no new cases since 19th April. With the last patient being discharged from the hospital on 11th of May, the country celebrated the end of the local epidemic.
This is very important for North Cyprus as it highlights its modern government and good medical system, which both have responded with success during unprecedented times, like the COVID-19 pandemic. Cyprus as a medical tourism destination gains profound importance and should be considered as a top destination for seeking fertility treatment.
What you should know before coming to Cyprus?
As of June 1st, North Cyprus has begun a gradual easing of the lockdown, allowing foreign nationals to enter the country. If you wish to come to the Turkish Republic of Northern Cyprus (TRNC) for fertility tourism purposes, here are the regulations that apply based on which country risk's group you belong to:
GROUP A COUNTRIES
Austria

Germany

Bulgaria

Bosnia and Herzegovina

Czech Republic

Estonia

Finland

South Korea

Croatia

Switzerland

Iceland

Karabakh

Latvia

Liechtenstein

Lithuania

Luxembourg

Hungary

Malta

Norway

Slovakia

Slovenia

Greece
Passengers from countries in group A will have PCR Tests 72 hours before entering the country.
GROUP B COUNTRIES
Australia

Belgium

United Arab Emirates

Denmark

France

The Netherlands

Ireland

Israel

Spain

Japan

Canada

Lebanon

Maldives

Portugal

Poland

Romania

Singapore

Turkey

Jordan
Nationals from the countries in Group B should have done a PCR Test 72 hours before they arrive in TRNC. PCR samples will also be taken upon entry to the country and they will isolate themselves at their residence by signing a commitment until the test results are available.
PCR tests will be taken at the airport, Girne Sea Port and the Metehan Checkpoint.
GROUP C COUNTRIES
America

Brazil

India

England

Italy

Sweden

Iran

Mexico

Pakistan

Russia

Other countries
Passengers from Group C will need to perform PCR testing before arriving in North Cyprus. Upon arrival, they will be quarantined for 14 days and will need to cover their quarantine expenses themselves. Other countries outside the C group will also be tested for coronavirus and will be quarantined for 14 days.
Coronavirus precautions
It is important to stress that while the local epidemic has been successfully eradicated, it is still important to take all precautions to stop any future outbreaks. Testing requirements are in place prior to allowing foreign nationals to enter the country. Wearing face masks and gloves as well as maintaining social distance are mandatory.
Safety measures implemented by the EuroCARE IVF Center
Your health and safety are our greatest concern, and we do everything to provide you with the best treatment in the safest way possible.
To protect patients from potential infection, a few pre-scheduled visits are allocated daily. Before every appointment, you'll be asked about any coronavirus symptoms (such as fever, coughing, and shortness of breath), and whether you've had close contact with an infected person.
You must wear a face mask and keep a distance of at least two meters once you enter the clinic facilities. Please do not bring anyone with you to your appointment unless they are also having a consultation or procedure.
Additional measures to protect your health include virtual consultations, online treatment planning sessions, and signing documents electronically. All patients are also required to sign a code of conduct before the start of their treatment, where they agree to avoid behaviours that might put them at risk of Covid-19 infection.
How are we making a difference in the post-Covid period?
Many people have been affected by the pandemic in different ways, including job loss and salary reduction. For this reason, the EuroCARE IVF Clinic has introduced a special discount that can be used in two ways until 1st of October 2020:
Option #1:
1) If you pay a 250 EUR deposit until December 2020 and come for the treatment until 31st December 2020, you get a 750 EUR discount.
Option #2:
2) If you pay the full discounted price for IVF at once until December 2020, you may come to Cyprus for treatment until December 2021.
We hope that this discount will compensate for some of the struggles or losses that many of our patients have faced during these hard times. For couples considering IVF with donor eggs, we recommend starting the planning process as soon as possible to avoid any delays in receiving treatment.
All-inclusive IVF abroad packages
In addition to our special discounts, we have also designed several packages to meet the varying needs of our patients and decrease the total IVF cycle costs paid by the patient.
Package #1: IVF with own reproductive material
This package is for patients who want to use their own eggs and sperm. This option includes:
Female partner's scans

Egg collection procedure

Fertilisation with ICSI or IMSI

Embryo transfer procedure

24-hour patient care (24/7 reachable patient consultant)

10 nights stay for 2 people (HB) in one double room in a 5-star hotel

Transport provided from and to the Ercan airport (ECN) in North Cyprus or the Larnaca airport (LCA) in South Cyprus

Transport to and from your hotel to our hospital for all scheduled appointments
If you want to upgrade your treatment cycle, you can do it by adding an assisted hatching procedure which helps the embryo(s) implant faster into the uterine wall.
Package #2: IVF with Egg donation
Patients who cannot use their own eggs for fertilisation can benefit from IVF with donor eggs.
With an extensive database of healthy egg donors, you can rest assured that your donor has been carefully examined and is free of any condition that might put the baby at risk. Moreover, our donors are between the ages of 21 and 28, which is very important for the success of donor egg IVF cycles.
By choosing this package, you get:
Female partner's scans

Egg donor fee

Egg donor tests

Egg donor medication & egg collection procedure

Fertilisation with ICSI or IMSI

Embryo transfer procedure

24-hour patient care in North Cyprus (24/7 reachable patient consultant)

8 nights stay for 2 people (HB) in one double room at a 5-star Hotel:

Transport provided from and to the Ercan airport (ECN) in North Cyprus or the Larnaca airport (LCA) in South Cyprus

Transport to and from your hotel to our clinic for all scheduled appointments
As in package #1, you can upgrade your cycle with assisted hatching, which can improve your chances of implantation success.
Start your IVF journey today with EuroCARE IVF!
As one of the best fertility clinics in North Cyprus and a pioneer in many innovative treatments, such as PGS, assisted hatching, embryo glue, IMSI (intracytoplasmic morphologically selected sperm injection) & ICSI (intracytoplasmic sperm injection), INVOCell and gender selection, we continue to provide full support to our patients in the post-Covid period.
With no extra cost of paying for each individual service, with EuroCARE IVF you save money and get peace of mind knowing exactly what your treatment will cost — regardless of what it takes to properly care for you during your IVF cycle.
Start your IVF journey today by scheduling a free video consultation with our medical team and explore all available fertility options for you!