The leading fertility clinic in North Cyprus, EuroCARE IVF, has helped hundreds of couples become parents. The process of having a baby through egg donation may seem complicated, but our experienced doctors, devoted nurses, and counselors will guide you through the process step-by-step.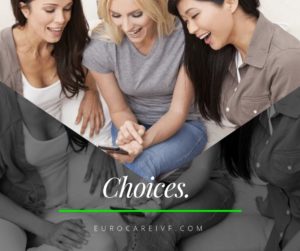 Egg Donation treatment is normally advised to couples who have a history of failed cycles and where tests indicate very low or no egg reserve. This normally relates to older women, however premature menopause can happen to women in their 20s. Here at EuroCARE IVF, we develop a treatment plan personalized to suit individual needs.
Everybody's circumstances are different. With the help and experience of the leading IVF center in North Cyprus, we make sure to implement a treatment plan to give you the best chance fulfilling your dreams of having a baby.
We understand it is not always easy to decide to use an egg donor. Your journey with us begins with a conversation with one of our compassionate coordinators —  in which tests can be discussed and questions asked. When it has been decided that egg donation in North Cyprus is the best road for you, only then we start making plans for the treatment.
Step by Step — Egg Donation Cycle
1. Synchronization & Stimulation
Once your egg donor is selected, we will prepare her body in North Cyprus while you begin your medication at home. Your egg donor requires daily injections and regular monitoring to develop her eggs.  At the same time you must use medication to prepare your uterine lining in preparation for the treatment. We will make sure you and the donors cycles are synchronized so your donors eggs are ready for collection when you arrive in Cyprus.
2. Egg Retrieval and ICSI
When the cycles are synchronized, the donor takes medications to stimulate the growth and maturation of a group of eggs. The donor is monitored by ultrasound and blood tests for 10 to 14 days, until the eggs are ready to be retrieved. The recipient will be taking different medications to prepare the uterine lining for the embryo transfer.
When your donors eggs are ready they will be collected by ultrasound-guided aspiration to harvest all the mature follicles. Sperm will also be collected from your partner the same day. The eggs are then fertilized with the sperm using the ICSI procedure and the resulting embryos are carefully monitored by our expert laboratory team.
3. Embryo Transfer
When fully developed, the embryos will be selected for transfer — normally at the blastocyst stage. On the morning of the transfer, our EuroCARE IVF doctors will discuss your embryo quality and grades so that you can decide which to transfer. If you desire, we can also perform, Preimplantation Genetic Screening (PGS), to determine the gender of your embryos before they are transferred to the womb.
4. Embryo Freezing
At EuroCARE IVF, we also offer embryo freezing so you can freeze any remaining embryos you have in case you wish to have another baby in the future.
Time in Cyprus
For egg donation treatment, it is best to allow enough time in Cyprus for the day 5 blastocyst transfer. Generally, 10 days in Cyprus gives you enough time, however your patient coordinator will further discuss this with you.
Our patient coordinators will be with you every step of the way. They will organize your hotel stay, airport collection, doctor appointments, and inform you on how your treatment is progressing. Our goal is to help you feel relaxed and stress-free on your journey.